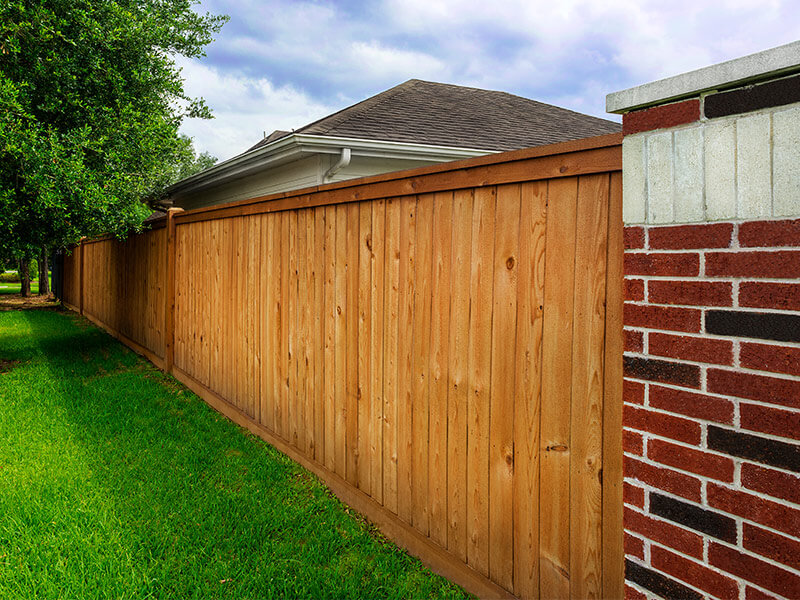 Introduction
It can be disheartening to look at a gray, sagging wood fence on your property that seems to be at its end of life. In such cases, you have to hire a fence repair professional to restore the old wood fence to its former glory. All you have to do is search "fencing company near me" on Google to find reputed fence repair service providers in your area.
However, if your old wood fence is only a few years old and hasn't suffered any structural damage, you can restore it by simply renewing its finish. Now, many homeowners are confused about whether to paint or stain their old wood fences. Both options are worth it since restoring the topcoat of an old wood fence will help to extend its life. Still, both options have their advantages and disadvantages that you should know about.
Staining vs painting an old fence
It is important to paint or stain your fence periodically to maintain its look and protect it from the harsh outside elements. Here are a few things to consider when you are considering restoring the look of your old wood fence:
1. Ease of application – In most cases, it is easier to apply stain on a wooden fence compared to painting it. Unlike paint which sits on the top of the surface, stain is easily soaked by the wood surface, and it doesn't require any special treatment.
Raw, rough wood will soak the coat of stain, but you need to sand and smoothen the surface before painting it. Now, you will need to scrape off any existing paint from the surface of the old wood before repainting it and preparing the surface properly to avoid cracking and peeling.
Comparatively, you can simply use a good power washer and cleaner to prepare the old fence before restaining it. However, there are no strict restrictions for applying paint as long as it's not raining. You have to stain your fence on a day when the temperature is between 50-80 degrees Fahrenheit with no rain forecast for at least 2-3 days.
2. Durability – Generally, you need to reapply paint every 5-6 years and reapply stain every three years. However, your fence may require more frequent maintenance if it has sustained harsh weather conditions such as considerable rainfall, snow, and more.
Paint tends to crack, peel, and bubble over time. Stain only starts to fade in certain places as the fence gets older. Still, it is good to perform preventative maintenance and repaint or retain your old wood fence earlier to keep it in good condition.
3. Cost – There is no clear winner between paint and stain when it comes to the pricing. This is because although it is cheaper to purchase paint, you need to apply more paint to cover the surface of the fence. Plus, you also need to purchase a primer when applying paint to your fence. And, although stains are more expensive, less of it is required to cover the same surface area of the fence. So, ultimately, the cost evens out.
4. Aesthetic appeal – If you want to create a more dramatic change in your old wood fence, painting is the correct choice since it is available in a wide range of colors such as black, blue, gray, and more. Thus, you can use paint to customize the look of your fence. However, if you want to preserve the natural look of the wood.
5. The type of surface – You need to do significant prep work before painting rough-sawn wood. However, you can use an oil-based wood treatment such as linseed oil or oil-based stain to preserve the raw look of the wood.
Painting a cedar fence is not recommended since it can actually decrease its lifespan. Also, it is ideal to paint treated wood over staining it since the stain will not penetrate as deeply once the wood gets treated.
Tips to stain your old wood fence
It is important to keep a few things in mind before you get started with the process of staining your old oak fence. Let's take a look at those below:
1. Loosen the old varnish – It is important to remove any remaining clear coats such as varnish, lacquer, and more from the surface of your old wood fence before you reapply a new stain. You can use a random orbit sander to remove nearly any wood finish from a flat surface. For irregular surfaces, you can use handheld sandpaper or sand blocks.
You can use solvents to remove alcohol-based finishes such as lacquer and shellac. Finally, you can use chemical strippers for removing paint, varnish, and polyurethane (acrylic).
2. Powerwash and dry the fence – Use a power washer to remove light to moderate accumulation of dirt on your fence. However, ensure you use a low-powered unit that is operating at no more than 2,000 psi to prevent any damage to the old wood slats. It will also help to blast away old varnish from the surface of the fence. Dry the wood completely before staining it.
3. Use diluted bleach to spot-treat mold and mildew – Old wood fences can feature a lot of mold and mildew and it is important to spot-treat them before applying new stains. Wear rubber gloves and apply a diluted bleach solution to the splats using a garden sprayer. Let the solution sit for a few minutes to work its magic and then rinse it with a power washer or high-pressure spray nozzle. Ensure the wood is completely dry before you begin the staining process.
Conclusion
Staining or coloring an old wood fence can feel like a lot of work, especially if you are not used to performing DIY activities. And the job can become tougher if you need to fix a few cracks, chips, or even broken sections of the old wood fence. If you don't feel comfortable working on such a project, it is a good idea to leave the job to professional fence repair experts to avoid the risk of accidents and damaging your fence even more. You can search "fencing company near me" on Google to hire a professional fence repair expert in your area.